Online Alumnae Mentorship Program
Techsploration is thrilled to launch its second Online Alumnae Mentorship Program! A first for our organization, this new initiative provides Techsploration alumnae with continued guidance, virtual networking experiences, and opportunities for personal and professional growth as they navigate career paths post-graduation. The online program has been made possible with funding from Employment and Social Development Canada and with support from local tech firm, EnPoint.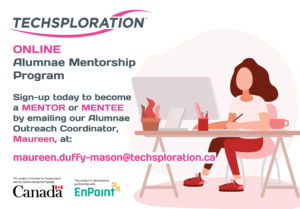 Please contact Techsploration's Alumnae Outreach Coordinator, Maureen Duffy-Mason, to sign-up or should you have any questions regarding this new program.