Dev Degree Applications are Open!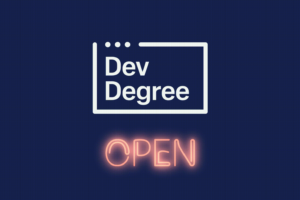 Are you ready to jumpstart your career in computer science?
Earn a computer science degree through a learning and placement path unlike any other. Our innovative work-integrated learning model provides hands-on experience across a breadth of disciplines and teams, giving you the confidence to jumpstart your future—wherever it takes you.
Reasons to apply for Dev Degree:
Build a resume while earning your degree. With Dev Degree, you take learning beyond the classroom and graduate with over 3,800 hours of work experience.
Mentorship at every step of the way. Mentorship is an integral part of becoming a software developer, and Dev Degree pairs you with expert mentors to help you hone your skills and grow.
Graduate debt-free. Shopify covers your tuition and pays you a salary, allowing you to focus on learning and not finances.
Have question?
Dev Degree students and team members will be answering questions on Twitter. Click here to join the conversation.
Ready to start your application?