Techsploration and Construction Safety Nova Scotia Launch Set for Safety Campaign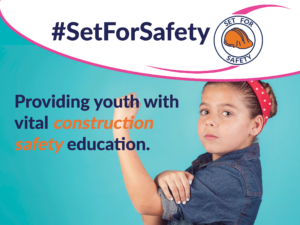 Social Media Series to Highlight Construction Safety Education for Youth
January 25, 2022 (Halifax) – Construction Safety Nova Scotia (CSNS) and Techsploration have launched a new social media campaign to promote construction safety to youth across the province. Developed as a joint initiative, "Set for Safety" targets Techsploration participants, primarily young women in Grades 9 through 12, with vital construction safety education, including CSNS's Entry-Level Training (CELT) program.
"Safety is an absolute priority for Techsploration and our industry partners. This initiative also encourages our community to really re-think what safety means on a worksite. Safety training not only encompasses appropriate personal protective equipment, but it also actively addresses the importance of mental health support and workplace harassment. We are thrilled to grow our partnership with CSNS and increase awareness of construction safety best practices." – Emily Boucher, Executive Director, Techsploration
With a combination of bold visuals and relatable video content, 'Set for Safety' further builds on the safety training offered to Techsploration program participants. Each year, 800 youth under the age of 25 are injured and face lost time injuries in the workplace.  This partnership will actively address the need to lower injury and incident rates for youth working in Nova Scotia's construction sector.
"As a female engineer, I am extremely passionate about Techsploration's mission to educate and empower young women interested in skilled trades and STEM. CSNS doesn't only offer safety education for people already in the construction industry, but those entering the field as well" – MJ MacDonald, CEO, Construction Safety Nova Scotia.
The 'Set for Safety' series will be featured on both Techsploration and CSNS websites, through their respective social media feeds, and at Techsploration events throughout the school year.